Watch these Interviews featuring Maureen Minnehan Jones...
Anita Moorjani's and Maureen Minnehan Jones discuss Maureen's Modus Operandi Healing Technique (MO Technique), and her book, Wisdom to Wellness.
Anita Moorjani has become something of an international sensation since her book 'Dying to be Me' hit the New York Times bestsellers list only two weeks after its release in March, 2012.
Anita had experienced what most people never have; she 'crossed over' and came back to share what she learned. Her remarkable NDE (Near-Death Experience) and subsequent healing from end-stage cancer is one of the most amazing cases ever recorded.
Anita had an amazing healing MO Technique session with Maureen and wanted her audience, in the Anita Moorjani Sanctuary to hear about this amazing Modus Operandi Healing Technique!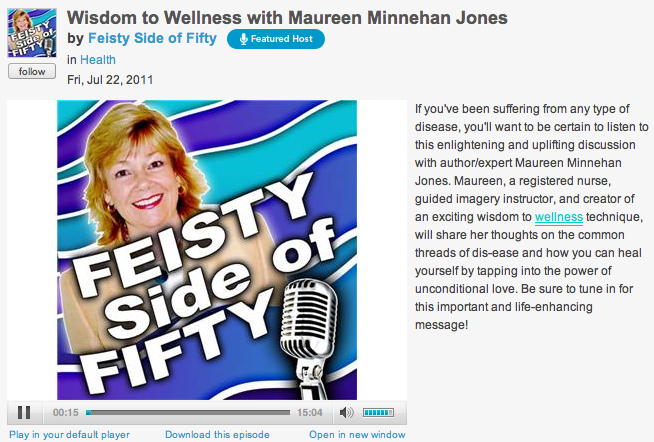 If you've been suffering from any type of disease, you'll want to be certain to listen to this enlightening and uplifting discussion with author/expert Maureen Minnehan Jones.
Maureen, a registered nurse, guided imagery instructor, and creator of an exciting wisdom to wellness technique, will share her thoughts on the common threads of dis-ease and how you can heal yourself by tapping into the power of unconditional love.
Be sure to tune in for this important and life-enhancing message!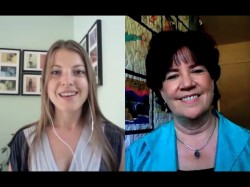 - with Evita Ochel
When we speak about diseases and how or why they affect some people while not others, there is often a missing part that is not addressed in the conversations. Every so often I get someone asking me what the real value of eating healthy or taking proper care of oneself is, when they knew so and so, who ate so healthy and seemed to do all the right things, yet still succumbed to some disease. Other people cannot understand how someone can lead a life of unhealthy habits and yet outlive in full health those who practiced healthy habits.